ガンダ語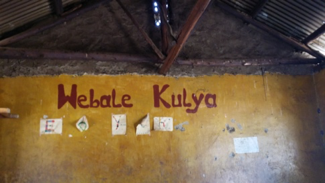 ガンダ語について
ウガンダでは、このガンダ語が主に話されている。ガンダ語のことは、ルガンダという。「ル」は言語という意味の接頭辞なのでルガンダ語とは言わず、ガンダ語という。ガンダ語のアルファベットは英語と一緒で基本的にローマ字読みすれば大丈夫。しかし、現地ではgをギ、kiをチと発音するなど、少し違う点もあるので注意。例えば、私がいったKiyumbakimuは「チヤンバチム」と発音すれば通じる。
sentence
大人の人に挨拶する時に、最後につけた方が良さそうなもの
ssebo; sir
nnyabo; madam
Oly otya/ Ogamba ki → Gendi ; How are you? → I'm fine
Okola ki? →Tewali: What are you doing?→nothing
Ogamba ki?;what are you saying?
Nkomyewo:I'm back
Wasuze otya→Nasuze bulungi ; Good morning→I slept very well
Wasibye otya; good afternoon
Sula bulungi → Kaale ; Good night→ Okay
Oli bulngi? ; Are you happy?
Webale kufumba → Kaale ; Thank you for cooking food→You're welcome
Webale kulya; Thank you for eating
Gebaleko; Weldon
Ki ekiriwo muganda wange? Obulamu bugamba ki?→tewali ; How are you my brother! How is your life?→意味はないらしい。
Ebiki→what?
Nvaako:leave me
Maria aliwa? ; Where is Maria?
Ssaawa mmeka? ; What is the time now?
Osomera wa? ; Where do you study from?
Ova wa? ; Where are you from?(どこ行ってたの?)
Game ani? →Nze Kauma; What is your name? →I'm Kazuma
Kulikayo→Nvuddeyo; Welcome back → Thank you
Olina emyaka emeka ? How old are you?
Nkooye; I'm tired
Okooye? →Nedda; Are you tired? →No
Kitaawo ali atya? ; How is your father
Njagala; I want/like
Webale; Thank you
Mpa; give me
Nva kulya mmere yange; I'm full/ I'm from eating my food
Okwolaki kati?(オコラチカチ); what are you doing now?
Ndeetera engatto zange; bring for me my choose
Mmwesigira ddala; I trust in you so much
Toyinna kyoikworo; you have nothing to do
Mala gassa wansi; first put it down
Emmere yange eliwa; where is my food
Sijja kumoyamba; I can't help you
Genda ongulire ssukali; you go and buy sugar for me
Ekitabo kyange kiriwa?; where is my book?
Ekitabo kyo kiteke ruansi; put your book down
Affanana nga omwanaa omuto; he/she looks like a child
Kirungi nnyo; it is very good
Kiwooma; it is sweet
Okimanyi; do you know (←これ知ってるー?的な)
Mbeero Japan; I live in Japan
Nsanyuse okubalako; I'm very happy/ glad to see you
Tewali buzizu; no problem
Enjala ennuma; I'm hungry
Ogambaki; what sre you saying
挨拶系
Oly ota/ ogamba olya; how are you
写真撮りたいとき
Tuwe kukifananyi; let's take a picture(写真とろー)
Jangu; come(こっちきてー)
Sanyuka; to laugh/ to smile(笑ってー)
words
食事系
Emmere; Food
Matooke; Banana
Akawunga; posho
Ebijanjaalo; beans
Omukyeere; rice
Muwogo; cassava
Ekikajjo; sugar cone
Ffene;jack fruit
Chapati; chapatti
Amazzi; water
Emmwanyi; coffee
Ekyenyanja; fish
Enyama; meat
Enva; soup
Overcado; overcado
Ennyanya; tomato
Akatungulu; onion
Omuyembe; mango
Ekyemisana; lunch
Ekyeggvlo; surper
Kulya; eat
生物系
enkoko; hen
embwa; dog
embizzi; pig
ente; cow
kkapa; cat
embogo; buffalo
enovu: elephant
enjuki; bee
omusota; snake
人間系
omumtu; human being
abasajja; men
omukazi;woman
omulenzi; boy
omuwala; girl
maama; mother/mum
taata; father
omuwana; baby
omuwana otuto; child (omuwanaだけかもしれない説)
身体系
okutu; ear
omumwa; mouth
amannyo; teeth
erinnyo; tooth
enviiri; hair
ebisige; eye blow
evviivi; knee
engalo; figure
olwala lwengalo; finger nail
emikono; hands
ekibega bega; shoulder
omugongo; back
生きてて身近にあるもの
engoye; cloth
ekitabo; book
engatto; shoes
omuti; tree
ekinya; pond
essimu; phone
ennyumba; house
omuliro; fire
ekidomola; Jerry can
ekirooro; dream
そのほかで使いそうなもの
proud/essanyu; happy
kibi; bad
kirungi/mulungi; good
kono ;left
dyo ;right
okusaba; praying
okuzanya; playing
okutambula; walking
okudduka; running
okuta; to release
okutta: to kill
ekifananyi; picture
omuggo; stick
omupiira; ball
olujji; door
ekikopo; cup
eggoma; drum
enyanja; lake
omugga; river
ennimiro; garden
wansi/kuttaka; on the ground
erinnya; name
emyaka; years
sente; money
emmotoka; car
essomero; school
essaawa; time
ettaka; soil
enkumbi; hoe
enva; soup
amaanyi; power
okuzina; dance
okuyimba; sing
okutta; kill
genda; go
jangu; come
okulima;dig
wano; here
wali; their
曜日
Sunday; Sunday
Olwokusooka; Monday
Olwolubiri; Tuesday
Olwokusatu; Wednesday
Olwokuna; Thursday
Olwokutaano; Friday
Olwomukaaga; Saturday(土曜日だけmなの不思議)
数字
1;emu
2;bbiri
3;Saturday
4;nnya
5;taano
6;mukaaga
7;musanvu
8;munaana
9;mwenda
10;kkumi
11;kkumi nemu
12kkumi nabbiri
13;kkumi nasatu
14;kkumi natano
15;kkumi namukaaga
16;kkumi namukaaga
17;kkumi namusanvu
18;kkumi namunaana
19;kkumi namuwenda
20;abiri
21;abiri mwemu
22;abiri mubbiri
23;abbiri mussatu
〜
30;asatu
40;ana
50;atano
60;nkaaga
70;nsamvu
80;kinaana
90;kyenda
100;kikumi
200;bibiri
300;bisatu
400;bina
500;bitano
600;lukaga
700;lusanvu
800;lunaana
900;lwenda
1000;lukumi
10000;mutwalo
100000; mitwalo kkumi